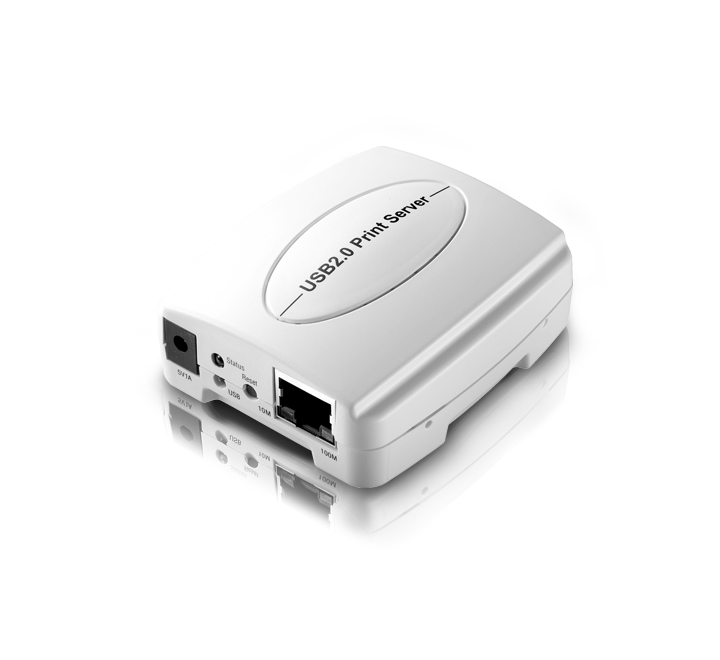 test
PS2101-C Single USB2.0 Port Print Server
CPU : MT7688AN
FLASH : 2 MBytes
RAM : 16 MBytes DDR2
LAN : 10/100 Mbps
Interface : 1 USB 2.0 Hi-Speed
Power : 5V/1A
OS Support : Windows,Unix/Linux,MAC,Netware
Print : LPR,RAW TCP,IPP,SMB,AppleTalk,Print Monitor,Netware Bindery/NDS
Features
High-speed microprocessor and USB2.0 compliant printing port make processing jobs faster.
The PS2101-C print server allows you to take the computer out of the loop while setting up a printing network.
All that is needed is to connect the PS2101-C to a printer via the USB port, connect the print server to your LAN, and you will be able to access your printer from any computer on the LAN.
PS2101-C USB2.0 print server is compatible with most majorities of printers on the market.
Easily connect your USB printer to a network.
Allows multiple computers to share one USB printer on the network.
The PS2101-C print server is an ideal network printing solution for offices that require printer sharing over the same network.
This print server is equipped with a 10/100Mbps autosensing Ethernet port and a USB 2.0 port that connected to USB printer.
---
Hardware Specification
CPU
MT7688AN :
Embedded MIPS24KEc (575/580 MHz) with 64 KB ICache and 32 KB D-Cache
Reset / Load Factory default button
Yes,1 Botton
System Memory
16-bit DDR2 16Mbytes
SPI FLASH Memory
2 Mbytes
USB Port
A type USB2.0 High speed standard compliant host controller
Ethernet 10/100
10/100Mbps
Compliant with IEEE 802.3/802.3u standard, 10/100Mbps auto-sensing, RJ-45 (UTP) connector
Status/Power LED indicator
Orange
On : Power on
Off : Power off
Network indicator on Lan Port
Yellow / Green
Yellow On : 10Mbos
Green On : 100Mbps
USB LED
On : Connected to USB2.0 Printer
Off : Disconnect
Power supply covering all major regions
DC 5V / 1A (switching, mini-sized)
Software Specification
Network Operating System Support
Windows 9X/Me/NT/2000, XP-32/64, Vista-32/64
Windows 7-32/64, Windows 8/10
Unix/Linux,
Mac OS(8.1以上)
Netware(Bindery/NDS)
Printing Protocol Support
TCP/IP, IPX, NetBEUI, AppleTalk, IPP, LPR, RAW TCP, SMB over TCP/IP
Internet Printing Protocol (IPP) Support
Yes
DHCP client Support
Yes
Management
1. Web Interface
2. Windows-Based setup program
Software Upgradeable
1. Web interface
2. Windows-based Setup Program
3. TFTP
Windows Print Monitor Technology
Yes
SNMP & HP Web JetAdmin Support
Yes
Email Alert
Yes
Job Log
Yes
Self Test Page
Yes
Power On Load Default
Yes