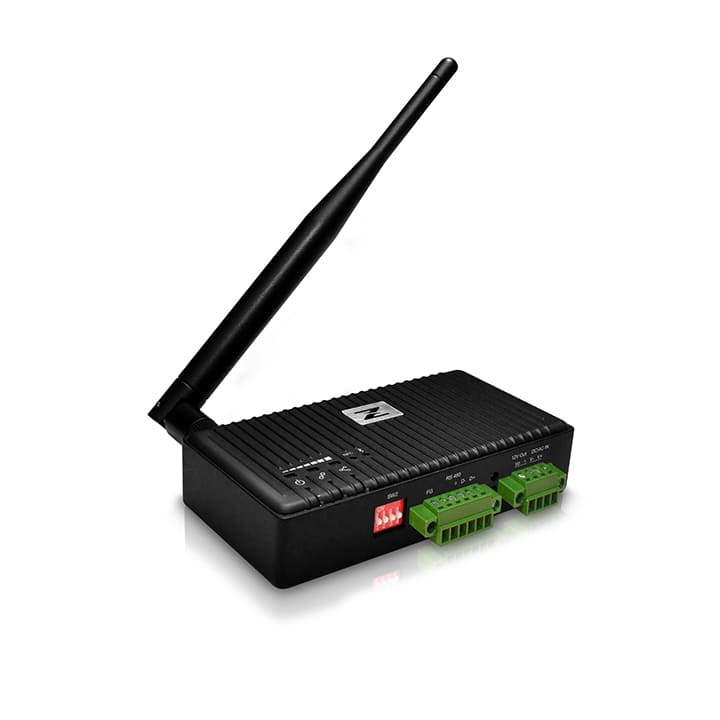 Z920K - RS485 - P
RS485 To Wireless Mesh Converter
Features
ZOTECH Z920K series are able to easily wireless those messy RS485 / RS232C  wires for Industrial IoT, smart building or other IoT applications.
Z920K wireless is designed with an OKI MH920 module to keep a good communiation quality. The main advantage of Z920K application is that the original control/data collect systems and sensing equipment can be kept to save cost and time for a mesh network establish.
Z920K-P/Z920K-C support Modbus RTU/ASCII , and feature a low power consumption, long-range and robust wireless mesh network.
To compare with the other wireless WiFi, ZigBee..., Z920K 920Mhz radio frequency has better capabilities of wall penetration and anti environmental interfiences. 
When the communication network needs to cross floors and areas and minimun equipment changes as well as the installation should be simple and fast,  Z920K wireless mesh converter will be a perfect solution for a choice.
---
Hardware Specification
Power in
USB 5Vdc in
10-48Vdc in
8- 24Vac in
Voltage out
12Vdc/0.8A
(A power adaptor has to be used.)
Serial Port
RS485-2W
Screw Terminal D+/D-/GND
Terminal Resitor
120 ohm option
RS485 D+/D terminal
1K/150K ohm option
RS485 TX/RX indicator
TX : Green
RX : Yellow
Power Switch
ON/OFF
Power Indicator
Ready : Green
Bootup fail : RED
LINK Indicator
Linked : Green
Ready : 1Hz blinking
Network Indicator
Normal : Green
Traffic : 10Hz blinking
Parent Indicator
Ready : Blue /1Hz blinking
Communication Switch
Buad Rate : 2400/4800/9600/19200/38400/57600/115200 bps
Parity : Even/None
Stop Bit : 1-bit/2-bit

Antenna
920-928Mhz/3dBi, SMA Connector
Micro-USB
5Vdc in, Console Utility Setup
Temperature
Operating : -20 ~ +70 ℃, Storage : -30 ~ +85 ℃
Humidity
Operating : 20 ~ 85%, Storage : 0 ~ 95%
Software Specification
Maintainece Utility
Windows XP-32/64, Windows 7-32/64, Windows 8/10
Protocol Support
Modbus RTU/ASCII
Customized
Reset
Yes
Load Default
Yes
Firmware Upgradeable
Windows-based
Environment Test Tool
Channel Noise Scanning
Performance Verification Tool
PER (Package Error Rate) & RSSI Calculation